I know your life can go on without me, that you can be
happy without me, that you can survive without me. But
even if you turn me away, I will still choose to stay with
you and be your sweetest stranger forever.
Faith makes all things possible.
Love makes them easy.
Soulmates
the heavens brought us together forever
I will love you forever, in this life and in the next
You're the peanut to my butter
You're the star to my burst
You're the Milky to my way
You're the Ice to my cream
You're the froot to my loops
You're the Ghetto to my Booty
You're the Best to my friend
and all that means
"I Love You"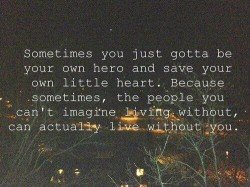 Sometimes you just gotta be
your own hero and save your
own little heart. Because
sometimes, the people you
can't imagine living without,
can actually live without you.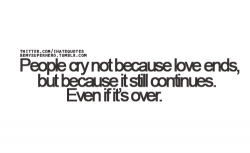 People cry not because love ends,
but because it still continues.
Even if it's Over
Share